Discover 04
Stakeholder Interviews
Ensuring that any concept or idea makes its way to market means enlisting the support of multiple stakeholders. Stakeholders are individuals who make decisions concerning and affecting the product or service that you're designing. This could include direct team members as well as outsiders who will contribute to or guide the project. Gaining broad support from stakeholders requires understanding what each of these influential people know about and want out of the project, what their teams contribute to the process, and how they will be involved throughout. Stakeholder interviews might also uncover business, technology, and competitor insights that can be useful in those analyses.
Formal stakeholder interviews are most useful when you're working with unfamiliar groups—usually in large organizations or as a consultant with smaller organizations. In these settings, interviews will not only provide valuable insight into how the company and team work but will also ensure that design is positioned as a curious collaborator in stakeholders' minds. Even if stakeholder interviews are not an explicit part of your project plan, consider doing them informally over a coffee or tea to get some of the same benefits.
Buy from Amazon
Buy Elsewhere
CityBike
Connected Bicycle
Stakeholder interviews for CityBike focus on getting to know team members' priorities and understanding all of the work and input that's been done to date. The output highlights priorities for design backed by quotes from stakeholders, as well as risks to the project.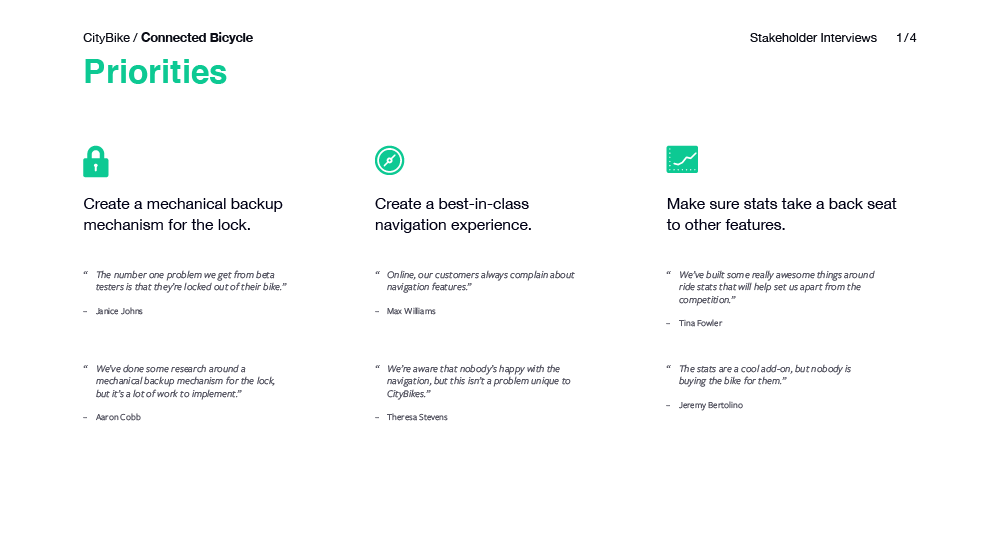 Omniscient
Observations Suite
Observations Suite stakeholder interviews focus on getting to know the team and its structure, while also uncovering individuals' biggest concerns and priorities.